Ray Thompson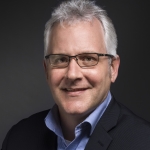 Avid, Senior Director, Partners and Alliances
Ray Thompson is currently senior director partners and alliances with Avid, where for the past six-and-a-half years, he has been working in product marketing and business development.
Thompson has 25 years of business development, sales and product management/marketing experience focused on sports, media (broadcast and film), and e-sports. He was involved in the development of IP live streaming platform strategy for sending SD, HD, and 4K video over a standard IP connection from anywhere to anywhere at broadcast quality and at low latency to mobile and web.
He has been a driver in the transformation of a start-up software company from video editing focus for sports to content licensing and management/distribution of college sports assets via the web to college sports fans. He executed the release of a high-performance graphics chip, landing a large-scale bid as primary provider of graphics processor for Microsoft's Xbox 360…
Thompson penetrated the media/entertainment space for Fortune 500 technology company, developing a ISV echo-system creating solutions-based approach to selling. He played a vital leadership role in full-phase startup of pioneering software company reaching $26M in annual revenue, playing a leadership role in the positioning and sale of company
He is the co-author of a patent for assigning game data to universal time clock on traditional and IP based streams for the purposes of automated creation of highlights across user specified sample of games (video), creation of edits for purpose of recruiting and scouting, and for reporting based on game statistics with drill down to video capability.
Thompson was involved in the development of a 3D real time motion capture application able to measure athletes down to the sub-micron level, leveraging the game relationship with EA sports to develop simple UI and incorporating real NFL and college playbooks and behavior into the Madden game engine for the purposes of high school, college, and pro athlete development, pre-hab and rehab.